Posts Tagged Kalalarga Makarska
Modern apartment in the center of Kalalarga is surrounded by gastronomic offer of famous makar taverns, restaurants and wine bars, steps to the city's waterfront, Kačić's Square and the Cathedral of Sv.Marka.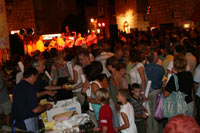 Noć Kalalarge , 21.8.2009 (petak) – 21,00 sati , Kalalarga, Pučka fešta
Kalalarga, poznata kao žila kucavica grada, nekada najšira i najduža ulica u Makarskoj, u petak 21. kolovoza opet će oživjeti. Prva Noć Kalalarge organizirana je 1994. g. Prethodnih godina je ta noć značila zatvaranje Makarskog kulturnog ljeta i održavala se u rujnu, no ove godine se fešta održava ranije, u kolovozu.